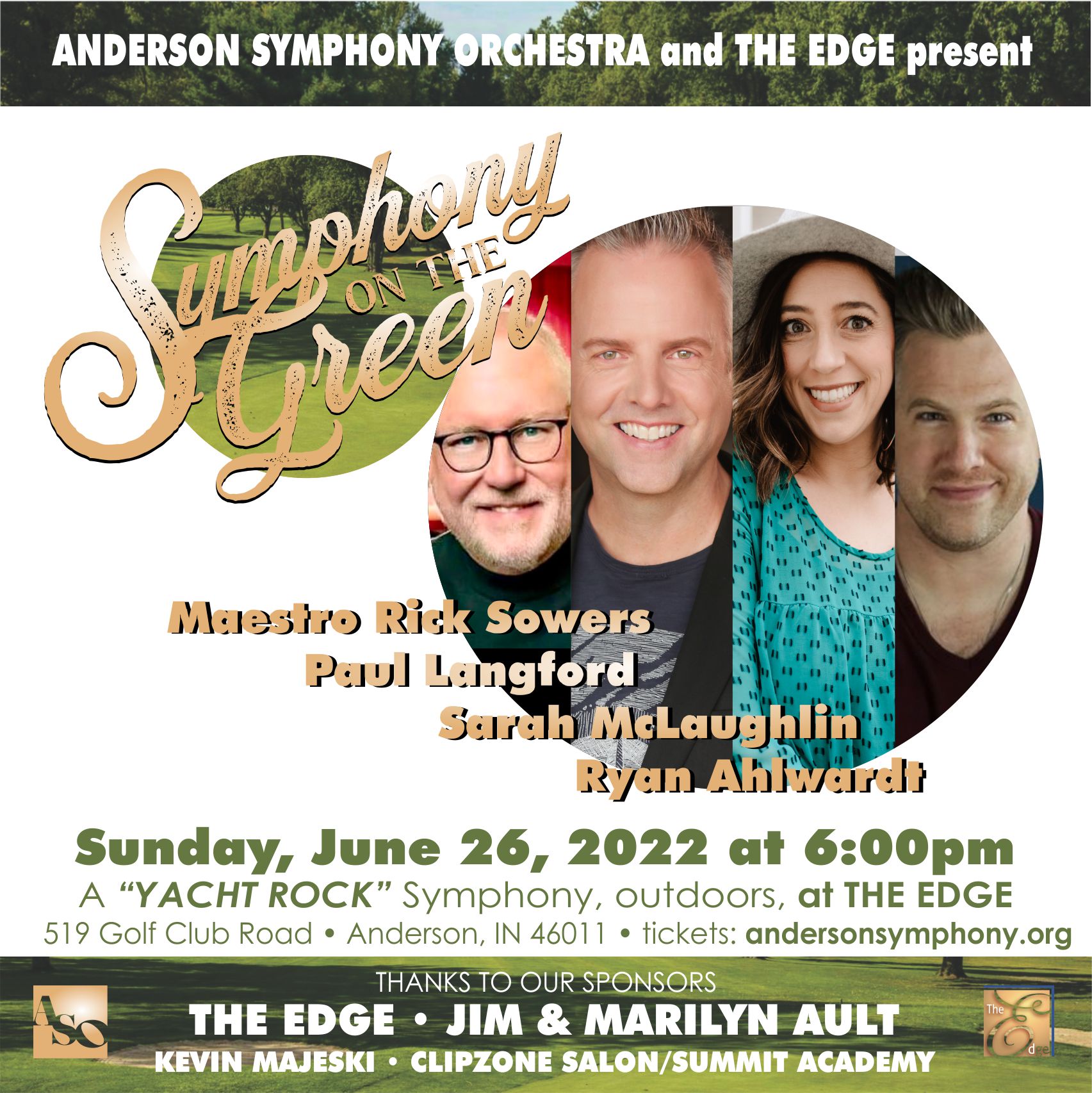 ---
Join the ASO and The Edge Sunday, June 26, 2022 for the first annual Symphony on the Green. This year's concert is a Yacht Rock Symphony, featuring smooth rock songs from the 1970's and early 1980's that we all know and love. Bring your chairs, blankets and friends to enjoy a summer evening on the greens. The Edge will be selling food and will have alcoholic and non-alcoholic beverages available for purchase. No outside food or drinks, please.
Maestro Rick Sowers will be conducting. Among the vocalists scheduled to perform are Ryan Ahlwardt, Paul Langford and Sarah Scharbrough McLaughlin. Ahlwardt is co-host of Indy Now on FOX59 and has been a guest on The Today Show and The Tonight Show with Jimmy Fallon. Langford is a Chicago-based singer, composer and keyboard musician who has accompanied such artists as Kenny Rogers, Josh Groban and Celine Dion. McLaughlin, an Anderson University graduate, is a singer/songwriter with six albums and multiple concert tours to her credit.
Handicap parking is at The Edge with golf carts available for transportation to the stage area. All other parking is at Edgewood Elementary School (3525 Winding Way) and Edgewood Baptist Church (3743 Nichol Avenue) with shuttles transporting patrons to the concert.
Tickets for children are $10 and adults $25. Purchase them online by clicking on the provided button. 
Sponsors:
The Edge
Jim and Marilyn Ault
Kevin Majeski, Realtor
Clip Zone Salon and Spa and Summit Salon Academy
Breathe Easy Madison County